Messages

2
Reactions

1
City

ORILLIA
State

Non-US
Country

Canada
What I Drive

2018 Golf AllTrack
Greeting All
We purchased our 2018
Alltrack
from the local VW dealer in Sept 2018. This is our first VW and previously we were a
Subaru
family having owned 4 models (Legacy,
Outback
& Impreza) over about 25 years. I am Professional
Engine
er and
Subaru
's were an "engineer's" car. What really put me off was the time last year when one of the brake lines on our most recent
Outback
failed under braking. The brake pedal went right to the floor. Thankfully, this happened at slow speed on a side street and not on the highway which we often drive. This after the brake lines had been inspected and presumably protected as part of an earlier recall. Yikes !!
Hence we are now converts (although the Impreza is still around as a 'winter-beater' for driving around town). We just clicked over 30,000 km (18,600 mi) with no serious issues to date. I am a bit miffed that adding a trailed
hitch
will void the warranty. Though it seems to be a Factory option in Europe. Also, I would have liked to have seen a rear fog lamp as a standard feature.
Here's a picture of the
Alltrack
and our other red "VW".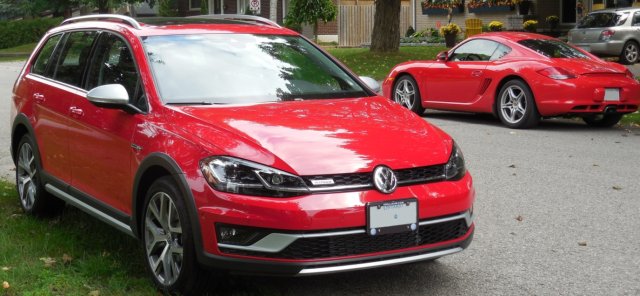 Cheers
Uncle John
1